History
The World Trade Center – Portland, located on the Waterfront in Downtown Portland, Oregon is regarded as one of the city's architectural icons overlooking the Willamette River and Tom McCall Waterfront Park. Formally named the Willamette Center (for its beautiful view of the Willamette River). The L-shaped complex consists of three buildings with a total of 500,000 square feet linked with extensive pedestrian walkways on the street and elevated bridges above ground level. Architecturally, the crystalline quality of the space framed entry and bridge system was designed to create prism-like patterns over the pedestrian areas and visually de-emphasize the office buildings. Its brilliancy, particularly at night – both from afar and underneath – provide an environment that fulfills the original mixed-use, design.
In 1988 the complex became the World Trade Center – Portland.
Philosophy
We strive to make World Trade Center Portland "a wonderful place to work"
At World Trade Center Portland we make every effort to be the standard in world class building management and operations.
We will lead the industry in operations, building improvements, energy efficiency, and sustainability.
We will enhance our value to our clients while minimizing risks.
We will honor and dignify each person who comes to World Trade Center each day.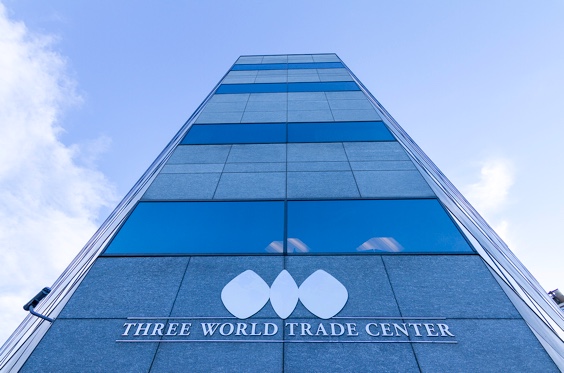 Sustainability
Sustainability is a primary focus throughout the city of Portland and the World Trade Center Portland has taken and is taking steps to ensure our operational practices are environmentally compatible and provide a healthy work environment for tenants and staff.
One way the World Trade Center Portland has taken steps to demonstrate our commitment to sustainability is through the Leadership in Energy and Environmental Design (LEED) certification. We have achieved Gold Level Certification for LEED Existing Building Operations and Maintenance.
World Trade Center Portland has committed to introducing more was to improve performance in energy conservation by:
Lighting controls & Light pollution reduction
Clean, Green Power
Water Efficiency
Recycling and Composting
Green Cleaning Program
Integrated Pest Management Program
Healthy Indoor Air Quality
Commuter Transportation Alternatives
By committing to these sustainable operational practices and work environments we hope to work towards Global change.
Transportation
With the tremendous sustainability focus in Portland and at the World Trade Center Portland alternative transportation options are readily available for your next visit or your commute!
Looking for Parking information? Refer to our Parking Page.
Tri-Met Bus Service offers 90 bus lines throughout the Portland Metro area. Within just three blocks of the World Trade Center Portland there are 12 bus stops and 15 different bus lines servicing these stops.
Tri-Met's Light Rail, MAX, also provides many options connecting the Portland Metro area to Downtown Portland. With MAX stops just a few blocks away the World Trade Center is easily accessible from Beaverton, Clackamas, Gresham, Hillsboro, North and Northeast Portland, Milwaukie, and the Portland International Airport.
Tri-Met is happy to help you plan your trip to the World Trade Center. The Tri-Met Trip Planner is a very helpful tool in finding the appropriate route for your trip.
As Portland is a very bike friendly city there are many bike routes that will find you safely at the World Trade Center. There are Neighborhood Greenways throughout the city in addition to a pedestrian and bike friendly bridge, Tilikum Crossing, located just south of the World Trade Center Portland. You can find out more about bike friendly options by visiting the Portland Bureau of Transportation's website.
The best way to get around Portland is public transportation… This city is known for having one of the easiest and most tourist-friendly public transportation systems in the country, with extensive routes from TriMet buses and light-rail trains.